Pelvic Scan and Consultation with Consultant Obstetrician & Gynaecologist
£285.00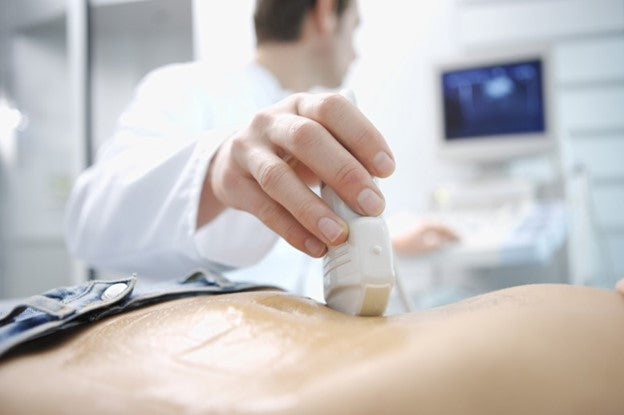 We have pelvic scan and consultation appointments available with our Consultant Obstetrician & Gynaecologist.
Mr. Aamir Khan is an experienced consultant obstetrician and gynaecologist with a special interest in early pregnancy and emergency gynaecology and works at one of the largest and busiest women's hospitals in UK (Birmingham Women's and Children's Hospital).
Mr. Khan is able to provide a high quality clinical and diagnostic service to women with concerns about their gynaecological health. Having an ultrasound examination provides useful information about the causes of many gynaecological problems. After the ultrasound, you will be able to have a relaxed and reassuring consultation to go through the results of the scan as well as any findings and implications on your gynaecological health. In addition, Mr Khan can prescribe relevant medication to help manage your presenting concerns (i.e. heavy and/or painful period, pelvic pain etc).
There are many reasons why a pelvic scan can be considered. These can include (this list is not exhaustive):
pelvic discomfort or pain
any menstrual cycle irregularity or abnormality
heavy and/or painful periods
detect fibroids within the uterus (womb)
detect cysts within the ovaries
assess for polycystic ovaries (PCO)
ensure correct location of your contraceptive coil within the uterus (womb)
assess the thickness of the uterine lining (endometrium)
assess for polyps within the uterine lining (endometrial polyps)
as a follow-up scan to monitor known conditions such as fibroids, ovarian cysts or PCO
to assess for any abnormality that might be affecting your fertility
Just to check if everything is OK - peace of mind!
Depending upon your presenting concerns and/or the findings on the pelvic scan, you may be advised to have a pelvic examination. This would only be done in cases where it provides extra essential information relevant to your concerns. In addition, Mr. Khan may discuss carrying out relevant investigations (blood tests, swabs, etc.) which can be sent to The Doctors Laboratory.
You do not require a referral (GP or Hospital) to book the appointment, but after the scan and consultation you will be provided with the scan report and a summary of the consultation for your own (and your GP's) record via secure email.
The Pelvic scan is a scan that looks at following;
Assessment of the size and shape of the uterus (womb)
Assessment of the appearance of ovaries
Assessment of the lining of the womb (endometrium)
Assessment of the adnexal area (around the uterus/ovaries)
This scan is usually performed trans-vaginally for optimum results. A pelvic scan is always begun through the trans-abdominal route and then trans-vaginally. You can decline the vaginal scan but please note that depending upon other factors (body habitus, type of gynaecological pathology, etc.) the results will not be accurate.
"I attended the early life centre today for a gynae consultation and pelvic exam with Mr Khan. I can honestly say after all the years I have been seeing gynaecologists this was by far the best experience. Mr Khan and Vicki put me completely at ease as soon as I arrived. The consultation was thorough and extremely informative, I was not rushed and felt very relaxed throughout. I am so pleased I was able to make this appointment and would highly recommend to anybody, not just those in early pregnancy but others like me who would like to discuss gynae concerns with a consultant. I am reassured and feeling happy! Thank you Mr Khan and the Early Life Team!"

Holly Anderson